TREND EnergyEYE DISPLAY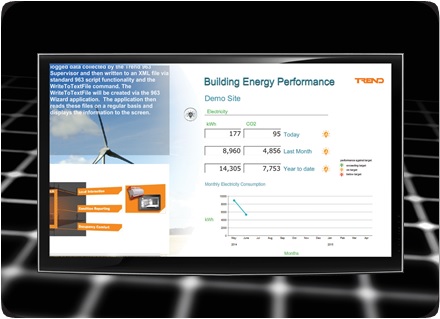 OVERVIEW
Trend EnergyEYE is a site based software application that displays utility readings provided by the Trend Building Energy Management System (BEMS). It can display any utility meter reading monitored by a 963 Supervisor i.e. Electricity, Gas, Water, Oil etc.
It has a high level of customisation, giving the user the ability to change backdrops, labels and add multiple sites to the screen. User specific logo's and movies can be added to further personalise the display.
Trend EnergyEYE displays consumption figures for today, last month and year to date, giving a snapshot view of the energy being consumed on that site. The display then uses traffic light icons in order to demonstrate site performance against the daily CO2 target.
KEY FEATURES
Displays utility performance data in an accessible format for staff, customer and public view

Ability to add and then customise meters in terms of labels, units and CO2 conversion factor

Uses 'traffic lights' icons to display site data against key performance indicators

Displays freeform text and movie files for customer specific messages

Ability to customise the background and layout for each utility

Runs as standalone application on networked Windows computer

Set up Wizard for installation by Trend trained engineers
BENEFITS
Demonstrates performance against energy and carbon reduction strategies

Enables customers to demonstrate their Green credentials

Promotes 'energy awareness' internally to encourage changes in staff behaviour

Promotes the effectiveness of the energy management team within the organisation

Video and text messages alongside the utility displays support Corporate Social Responsibility (CSR) objectives
Please contact us to know more.